Sofas are the focal point of a living room. Also, more often than not, they're where you spend most of your time while at home, so it makes sense to invest in something that will last—and get even better with age.

A leather sofa is sure to become a tried-and-tested staple in your home. Sturdy enough to withstand a playful pet, yet plush enough to soften and mold around you with use, leather is a standout material, it also goes well with just about every decor style.
Today there are more and more colors to choose from in lieu of traditional black or brown hues. This gives you the freedom to mix and match—and create your dream living space. While it is true that leather furniture can be expensive, we've rounded up the best picks for every budget, so you don't let a price tag stop you from buying your perfect sofa.
Here, the best leather sofas from Furniture Adda, the online furniture showroom in India.
Zimva 3 Seater Sofa

In the market for a sofa that looks mid-century but is modern-made? This classic sofa has everything you want from a vintage sofa without any previous owners or an extra high price tag. With a super-soft leather that will only get better with the years, it's filled with a combination of polyester and down so that it's firm but still soft and cozy.
We can see this leather sofa styled with anything from bright, graphic pillows to a chunky-knit neutral throw. That's the beauty of a natural material like leather—it goes with just about anything!
Buy Zimva 3 Seater Sofa, ₹54,100/-
Evada 2 Seater Sofa, Antique Cognac Leather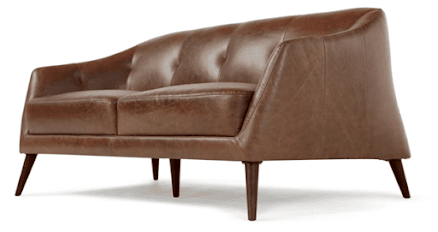 For a real leather sofa without the hefty price tag usually associated with one, this sofa is a great deal. At 66 inches wide, it's spacious enough to accommodate friends and family with ease. With a slightly mid-century look, the design is streamlined and will work with most any decor style—just add some accent pillows to give it your own spin.
Buy, Evada 2 Seater Sofa, Antique Cognac Leather, ₹34,500/-
Skirgirt Chesterfield Sofa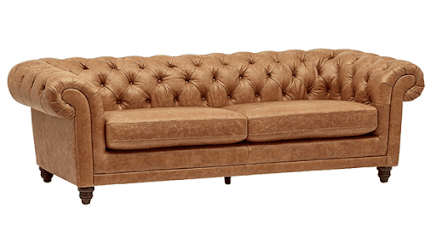 If you're in the market for a classic leather sofa that also feels super luxe and modern, this Chesterfield sofa is for you. Chesterfield is a classic British design that's been around since the 17th century. With a high, tufted back and firm, structured cushions, it typically signifies old-world prestige—but this modern version is anything but stuffy.
At Furniture Adda, you can customize every detail from the leg finishes to the width, and get ready to have a showstopping Chesterfield sofa furniture online for your home.
Buy Skirgirt Chesterfield Sofa, ₹60,000/-
View Source:- https://fabricsofasetindelhi.blogspot.com/2021/06/3-leather-sofas-from-furniture-adda-for.html